Received via NetGalley
Hot girls get the fairy tales. No one cares about the stepsisters' story. Those girls don't get a sweet little ending; they get a lifetime of longing
Imogen Keegen has never had a happily ever after–in fact, she doesn't think they are possible. Ever since her mother's death seven years ago, Imogen has pulled herself in and out of therapy, struggled with an "emotionally disturbed" special ed. label, and loathed her perma-plus-sized status.
When Imogen's new stepsister, the evil and gorgeous Ella Cinder, moves in down the hall, Imogen begins losing grip on the pieces she's been trying to hold together. The only things that gave her solace–the theatre, cheese fries, and her best friend, Grant–aren't enough to save her from her pain this time.
While Imogen is enjoying her moment in the spotlight after the high school musical, the journal pages containing her darkest thoughts get put on display. Now, Imogen must resign herself to be crushed under the ever-increasing weight of her pain, or finally accept the starring role in her own life story.
And maybe even find herself a happily ever after.
I loved this book. It was so beautiful, and truthful, and realistic, and so easy to relate to. But it also kept its fun and romance and sweetness. This was a stunning book, made even more so by the intertwining of different media forms. Now, I didn't have internet access while reading most of the book (booo) so I couldn't see the artwork/listen to the music while reading, and doing it afterwards didn't give the same impact (although it was still amazing). (And can we talk about that STUNNING cover??)
Imogen has been given many labels: emotionally disturbed, special Ed, fat, etc. And it really harms Imogen's emotional and mental state. She depends on her best friend, Grant, to help her keep it together. And she's been doing better. But it all goes downhill when her stepsister, Ella Cinder, moves in.
Now, I think most of us have never had it as bad as Imogen, necessarily, but I think all girls can relate at some level. We've all felt the same way, had the same thoughts running through our minds. I know, personally, I've felt that black hole of despair before, and Macke captures it perfectly. Also, Imogen's thoughts on being overweight were spot on, and so realistic. (I, too, know.)
I also love the way she incorporated fine arts into the book. I think the stage crew gets overlooked quite often, but they are amazing. (I did pit orchestra for our school musicals, as well as our regular concerts and assemblies and know just how hard they work. Go techs!) Imogen is content with just fading in the background, but when the time comes for her to take the spotlight, will years of insecurity and depression allow her to? I loved the growth that Imogen goes through in this story, as it is so true for all of us, at least on some level.
And Grant. Um, swoon. How he was there for Imogen, even when she couldn't see it or appreciate it. It's hard to see someone you care about go through that. Although it might seem like it only affects the one person, it really affects everyone around them. But still, he stuck with her. You don't see that everyday. I loved the rest of the supporting characters as well--Brice, Jonathan, Antonique. They were all so much fun, and brought some light humor into the story to help balance it out.
I hardly ever highlight or mark things when I read, but I found myself highlight quite a bit while reading this. And I see no other way to end than with one of my favorite quotes, courtesy of Therapist George:
The end of your story hasn't been written yet. You've got lots and lots of chapters left.
This review can also be found on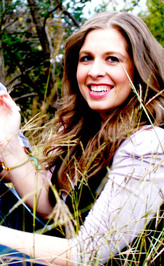 Kelsey Macke:
Website
|
Facebook
|
tumblr
|
Twitter
|
Instagram
|
Google+
|
Pinterest
|
Flickr
|
YouTube
|
SoundCloud
|
Goodreads