Title: The Tiger's Daughter
Author: K. Arsenault Rivera
Series: Their Bright Ascendency #1
Genre: YA Fantasy
Purchase: Amazon | Barnes & Noble
source: NetGalley
The Hokkaran empire has conquered every land within their bold reach―but failed to notice a lurking darkness festering within the people. Now, their border walls begin to crumble, and villages fall to demons swarming out of the forests.
Away on the silver steppes, the remaining tribes of nomadic Qorin retreat and protect their own, having bartered a treaty with the empire, exchanging inheritance through the dynasties. It is up to two young warriors, raised together across borders since their prophesied birth, to save the world from the encroaching demons.
This is the story of an infamous Qorin warrior, Barsalayaa Shefali, a spoiled divine warrior empress, O-Shizuka, and a power that can reach through time and space to save a land from a truly insidious evil.
I wanted to love this book so, so bad. It was loved by all the people I trust, it was blurbed by my favorite author. But I just couldn't. I DNF'd around 30% and let me tell you, it took WAY too long to even get that far. I like to give books a good chance before setting them down, but that 30% took me almost a month to read.
First, it was just...boring? I had heard all of this talk of warriors and empresses and saving the world, but apparently I just couldn't wait long enough to get there. The story is told mostly in letter form from one of the girls to the other. While the letter is in interesting aspect, I think it ultimately detracted from its intended purpose. (Also, it didn't really make sense? It seems odd to go into this much detail in a letter to someone who was also there.)
Also, the world-building was mostly built through dumps of information throughout the letter. It was obviously based on Asian cultures, but very badly done. While I can't speak to the racism and appropriation of Japanese and Chinese culture in this novel,
this review
can. I encourage you to read it.
All in all, just highly disappointed.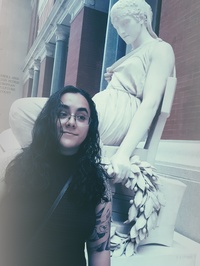 K. Arsenault Rivera
Website
|
Twitter
|
Goodreads