Title: Goodbye Days
Author: Jeff Zentner
Rating: 4 out of 5 stars
Genre: YA Contemporary
Purchase: Amazon | Barnes & Noble
source: NetGalley
Can a text message destroy your life?
Carver Briggs never thought a simple text would cause a fatal crash, killing his three best friends, Mars, Eli, and Blake. Now Carver can't stop blaming himself for the accident and even worse, there could be a criminal investigation into the deaths.
Then Blake's grandmother asks Carver to remember her grandson with a 'goodbye day' together. Carver has his misgivings, but he starts to help the families of his lost friends grieve with their own memorial days, along with Eli's bereaved girlfriend Jesmyn. But not everyone is willing to forgive. Carver's own despair and guilt threatens to pull him under into panic and anxiety as he faces punishment for his terrible mistake. Can the goodbye days really help?
This book. Wow. I almost don't know how to review it. It was utterly heart wrenching and emotional, which are the only kind of books Jeff Zentner writes apparently. The story follows Carver as he navigates his life after a texting and driving accident took the lives of his three best friends. He has to deal with his grief, his guilt, and how to move on.
Pros:
I think death isn't explored so much in YA, so I did like that this book focuses on that. Teenagers lose people too, and I can't imagine losing all your best friends at once. It's also good awareness about the dangers of texting and driving.
The positive portrayal of therapy and getting help when you need it was also super important.
I think this book also did a good job in showing all the different ways grief can manifest, and how important it is to grieve in your own way. Carver does three different Goodbye Days, and each family was different in the way that they were shown.
Carver and Jesmyn go to a School for Arts, and I like how their art (writing and piano respectively) was such an important and integral part of them. (Also! A spoilery thing about Jesmyn that I feel was added almost randomly but I liked. It was cool representation of something not seen that often.)
The writing is beautiful, and heartbreaking. Zentner really got us into Carver's head, and the grief and emotions he feels.
Carver's family (parents + sister) are very involved in the story, and I liked that added dynamic. I think it's because I also relate to Carver and his relationship with his parents almost exactly.
Cons:
I was a little wary of the relationship. While I understand that the only two left would be bonded deeply by their shared loss, I wasn't sure how I felt about it. However, I am okay with the direction Zentner went and how he chose to leave things.
The boys, as a group, just felt...very immature. I understand that Carver's flashbacks often went pretty far back, but even the ones where they were in high school still felt that way. I mean, I know teenage boys can be dumb, but I just still wasn't very convinced.
I'm not sure how accurate the court stuff was? It definitely added a lot of emotional turmoil to the book, though.
Again, this book was very heartbreaking and emotional and lovely. I loved it, and would absolutely recommend it (with the disclaimer of be prepared to have your heart ripped out).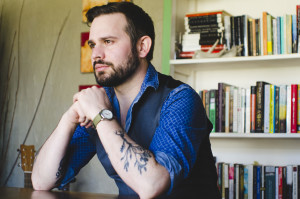 Jeff Zentner:
Website
|
Facebook
|
Twitter
|
Instagram
|
Goodreads